Success Stories
Since 2003 we have provided valuable insight to businesses customers on their utility expenses. Here is some of the feedback we received....
High Voltage has been purchasing gas and electricity for our plants in Florida, Texas and California for over a decade. Since 2010 our energy budget has decreased by 117% through strategic sourcing and implementing efficiency recommendations made by our utility adviser.
Read More...
Pulp and Paper
High Voltage and their staff is very knowledgeable and attentive to the needs of our business. When we signed our agreement, my representative told me if the market offers an opportunity to reduce your price you will get a call from us. That call came in March of 2017, High Voltage restructured our existing agreement saving our company $210,000 a year on our properties.
Read More...
Property Management
As a large industrial plastics company, electricity is the fourth largest expense in our budget. High Voltage has provided guidance and excellent service since 2004 providing procurement and bill review services for our locations.
Read More...
Industrial Plastics
High Voltage Utility Management has been extremely helpful in our energy procurement process, working on various projects in multiple states throughout the country. In our competitive bid process, High Voltage brings multiple offers to the table and assists with the process not only through favorable pricing but also with contract details. Their services and creativity are top-notch, and we have been very pleased with the work they've done for us.
Read More...
Correctional Facilities Operator
Did You Know?
Solar cells convert light energy into electricity.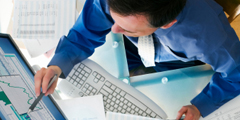 As an independent third party we represent the best interests of our client and not the interests of any one supplier.