Procurement - finding the right energy plans for your business
High Voltage is a neutral third party adviser, directly aligned with your business to evaluate your needs and negotiate on your behalf with energy providers.
High Voltage offers an energy procurement platform providing price quotes from all the top providers in your area. We save you time and money by filtering through multiple price offers by way of our competitive bid process. We also offer complex hedging strategies for customers interested in a portfolio approach to purchasing energy.
In the deregulated energy industry there are two major products, a fixed and variable rate option. The fixed rate product offers a guaranteed price while a variable product exchanges market risk for lower priced energy.
Our team will provide all the necessary information you need to determine which product best meets your objectives.
Our service includes:
Utility Data Analysis
Review Existing Agreements
Consultation on Pricing and Product Opportunities
Strategic Planning for Energy Cost Reduction
Formal Bid Package and Analysis
Contract Negotiations
Finalization of Supply Agreements
Customer Support
Did You Know?
Today the United States is the second largest producer of hydropower - Canada being the largest. There are 75,185 dams in the U.S. but less than 3 percent are used for hydroelectric generation. Between 8 and 12 percent of U.S. electrical generation is produced by hydropower and only about one-fifth of the electricity produced around the world.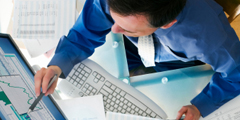 As an independent third party we represent the best interests of our client and not the interests of any one supplier.