Your partner in finding the lowest Energy Costs
High Voltage is an independent energy adviser who assists the business community with the purchase of electricity and natural gas in deregulated states throughout the United States. High Voltage is not aligned with any one energy provider which enables High Voltage to remain a neutral and objective resource dedicated to reducing energy costs for your business.
High Voltage focuses on evaluating utility data and creating proven purchasing strategies for business customers. Our primary goal is to reduce the cost your business pays today for utilities and to create long term strategies to reduce your exposure to rising energy prices.
Utilities, such as electricity and natural gas are commodities; the prices are constantly changing and can be quite costly to your budget if your business is not prepared. This requires insight to what could impact energy prices in your local area and in the states in which you conduct business. Our core staff includes industry veterans who have held various management and trading positions with the top energy suppliers. With the collective experience on our team, High Voltage is well positioned to assist you with managing your utility budget.
Co-founders Cheryl Malo and Andrew Lecce launched High Voltage in 2003 to offer procurement services for energy clients in Texas. Since 2010, High Voltage added several key members to our team to expand coverage into the Southern gas markets and Northeast and Midwest power markets.
Over the past 16 years the formula for our growth and success is our experience to identify the needs of various types of clients and offering solutions to meet your business objectives.
When it comes to managing your utility budget, High Voltage provides customers with a reliable and knowledgeable resource for securing low priced energy.
Did You Know?
In 1879 Thomas Edison invented the first long-lasting incandescent light bulb that could be used for about 40 hours without burning out. By 1880, his bulbs could be used for 1,200 hours.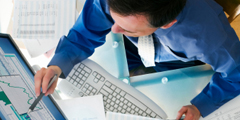 As an independent third party we represent the best interests of our client and not the interests of any one supplier.