Opportunity Awaits - Join Our Team
To meet the growing needs of our business, we are interested in speaking with candidates that are looking for a career opportunity in an industry that will grow for the next several decades.
An Exciting Full-Time Career
If you are looking for a career opportunity where your hard work and that effort is rewarded, you need to consider High Voltage. This opportunity is about growth in every aspect of your professional career. You will be an important member of our team where the opportunities are the best in the industry and your input will help shape the future direction of our business.
Our company offers a competitive compensation program that set today's industry standard. High Voltage will only consider applicants who have a strong track record and success in business to business transactions. We have retained 88% of our brokers since launching our company twenty (20) years ago. When you commit to High Voltage we equip your business with a team of the industry's best and the support to make sure you exceed personal and professional goals. This is a position that requires you to engage with decision makers in a business environment where computer skills with a proficiency in Microsoft Office applications is mandatory.
Interested candidates should fill out our contact form and someone will contact you to discuss our career opportunity.
Valuable Relationships - Referral Partnership Program
Great relationships are valuable in any business. Our referral program is designed specifically for those professionals looking to add value to their clients by entering into a business relationship with a proven leader in the energy services sector.
Interested in learning more about our referral program? Please fill out our contact form and someone will contact you to discuss the details of the program
.
Did You Know?
Around 70% of the Earth's surface is covered by oceans.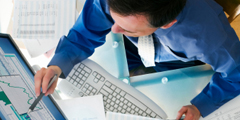 As an independent third party we represent the best interests of our client and not the interests of any one supplier.