Back to Blog
Back to School Energy Efficiency
---
Posted on 08-22-2016
---
It's back to school for teachers and students, and we have tips to improve the classroom for energy efficiency that will teach kids to think about becoming aware of energy waste and impacting their environment. These tips are great for all schools but especially for those in aging buildings where energy is still being wasted.
So, let's get our energy lesson plan started:
1. Recycling Center - Designate a place in the classroom for recycling items, create a list of things that can go in one or two different recycling bins and post above the bins, and get the students excited about coming up with their own list of things to recycle both in the classroom and at home. Appoint a Recycle Leader every week to inspect and organize the recycling center.
2. Scrap Bin - In addition to the recycling center, create an upcycle bin for paper that has only been used on one side. When students need paper to scribble notes, art or a project, get them in the habit of using paper out of this bin instead of a new piece of paper. Educate them on the importance of preserving paper and trees so that they will have a sense of knowing they are doing something positive for the environment by using scrap paper over a new sheet of paper.
3. Plant for Oxygen - Classrooms can certainly get stuffy especially in the colder months when the heat is running and kids aren't able to get outside for a break and fresh air. Having a few plants in the classroom will help to add oxygen to the air as well as provide cleaner air. NASA states that Bamboo, English Ivy, and rubber leaf plants can purify the air as well as reduce stress. Designate a plant keeper every day or week to care for the plants in the classroom.
4. Green Teams - Have a team of students do a classroom green check at the beginning and end of the day. Have them check for dripping water at faucets, make sure windows are closed tightly, power down computers at the end of the day, close the blinds, and make sure vents are not being blocked by books or other objects.
5. Green Posters - Decorate the classroom with posters that teach students about the environment, nature, and tips to be less wasteful when it comes to energy use. Perhaps you can begin the day by discussing the posters such as why we need trees, how plastic bottles end up in the ocean, the importance of not standing at the refrigerator with the door open for too long just to name a few. Kids will begin to incorporate good habits through osmosis and hopefully continue through their adult lives.
There are so many great ways to improve the classroom while teaching students of all ages how to be more responsible when it comes to their own carbon footprint and conserving energy. Parents can also get involved by continuing these classroom habits at home as well as help teachers by donating upcycled items from home. Remember, it really does take a village, and together we can make it an energy efficient one.
---
Did You Know?
Worldwide, hydropower plants produce about 24 percent of the world's electricity and supply more than 1 billion people with power.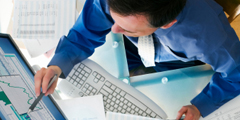 As an independent third party we represent the best interests of our client and not the interests of any one supplier.