Back to Blog
Electrifying Facts about Halloween
---
Posted on 10-31-2021
---
Electricity may not be the first thing that comes to mind when thinking of Halloween. But, the two do have more in common than people think. Here's a few electrifying facts to kick off your Halloween.
Power in Pumpkins
According to the U.S. Department of Energy, we could generate enough electricity to give power to 2.5 million homes a year by anaerobically digest 50 percent of food waste that happens in the U.S. Considering there are over a billion pounds of pumpkins produced anually, this would make a big contribution for renewable energy. In the near future, pumpkins may be too powerful to toss in the trash.
Haunted House...and Energy Bill
It may be fun to turn your house into the haunted house on the block, but know your energy bill may haunt you afterward. The more components you use to spook your guests, the more your bill might spook you. Electric Choice published an article on experts who looked at the top nine haunted house features and ran the numbers. One week of running things like strobe lights, fog machine, sound effects machine, animatronic monsters, thunder and lightening effects, a black light, a special effects projector, outdoor lighting and a spark fence could add $280 to your next bill.
Energy Vampires
There may be many vampires lurking around on Halloween, but we know those are just fictional characters. When it comes to energy, vampires are real as they suck the power out of your appliances. Two of the most common vampires are "bricks" and "wall" warts. A cord that's attached to a large plug unit such as a cell phone charger is considered a wall wart and will consume energy while left plugged into a wall outlet. A brick is a large black box attached to the cord...usually found on cords with TV, computer and video game consoles. When bricks are left plugged in, they will continuously use energy. Using power strips will help slay those vampires.
---
Did You Know?
ADL High Voltage has donated over $450,000 to local organizations offering family services and outreach in the local community.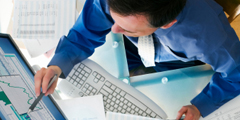 As an independent third party we represent the best interests of our client and not the interests of any one supplier.