Success Stories
Since we began operation, we've had remarkable success in helping our customers reduce and manage their electricity and natural gas costs. Here are a few of them....
After several years of managing the bidding process for our company's energy needs, we realized that the industry continued to change and we were not in a position of expertise to any longer risk our energy dollars. A decision was made by our restaurant group to review several energy procurement firms and decided on High Voltage who was willing to offer a complete line of services including electricity and natural gas procurement along with bill auditing and reporting services.
Read More...
Restaurant Chain
High Voltage Utility Management has been extremely helpful in our energy procurement process, working on various projects in multiple states throughout the country. In our competitive bid process, High Voltage brings multiple offers to the table and assists with the process not only through favorable pricing but also with contract details. Their services and creativity are top-notch, and we have been very pleased with the work they've done for us.
Read More...
Correctional Facilities Operator
High Voltage has been purchasing gas and electricity for our plants in Florida, Texas and California for over a decade. In 2017, our energy budget has decreased by 117% through strategic sourcing and implementing efficiency recommendations made by our utility adviser.
Read More...
Pulp and Paper
As a large industrial plastics company, electricity is the fourth largest budget expense in our organization. We have worked with High Voltage since 2004 as they provide energy procurement and bill auditing services for our locations in Texas.
Read More...
Industrial Plastics
As a property manager of a large office complex utilities are a major expense in my operating budget. It was my second month at my new position and I was reviewing our electric bills and was shocked at the cost we were paying for electricity.
Read More...
Property Management
High Voltage told me when we selected them over a larger energy brokerage that they would monitor prices. They said if the prices got low enough they would call me and restructure my existing deal. In November, 2015 they did contact me and starting December 1st our cost for electric dropped by $3,000/mo. on our Houston office building.
Read More...
Property Management
Did You Know?
The Moon is very hot during the day but very cold at night. The average surface temperature of the Moon is 224 degrees Fahrenheit during the day and -243 degrees Fahrenheit at night.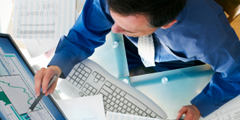 As an independent third party we represent the best interests of our client and not the interests of any one supplier.