Opportunity Awaits - Join Our Team
To meet the growing needs of our business, we are always interested in talking to professionals from inside or outside the energy industry looking to join a company who truly values its team members.
An Exciting Full-Time Career
If you are looking for a career opportunity where your hard work and effort is rewarded, you need to consider High Voltage. This opportunity is about growth in every aspect of your professional career. You will be an important member of our team where the opportunities are the best in the industry and your input will help shape the future direction of our business.
Our company offers a competitive compensation program that is commensurate to experience and the needs of the applicant. High Voltage will only consider applicants who have a strong track record, success in business to business transactions and a desire for more than just another job. We have had 100% member retention since launching the company 13 years ago for one simple reason. When you commit to High Voltage we equip your business with a team of the industry's best and the support to make sure you exceed your personal and professional goals. This is a position that requires you to engage with decision makers in a business environment where computer skills with a proficiency in Microsoft Office applications is mandatory. If you want to be a part of something that is special, a company committed to impacting the local communities in which we operate, then let's sit down and visit.
Interested in learning about full time opportunities at High Voltage? Please fill out our contact form and someone will contact you to discuss the High Voltage advantage.
Valuable Relationships - Referral Partnership Program
Great relationships are valuable in any business. High Voltage is looking for business professionals who will consider introducing us to their existing client base - help us open the door and we will take it from there. Our referral program is designed specifically for those professionals looking to add value to their clients by entering into a business relationship with a proven leader in the energy services sector.
Interested in learning more about our referral program? Please fill out our contact form and someone will contact you to discuss the details of the program
.
Did You Know?
The Moon is very hot during the day but very cold at night. The average surface temperature of the Moon is 224 degrees Fahrenheit during the day and -243 degrees Fahrenheit at night.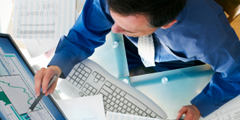 As an independent third party we represent the best interests of our client and not the interests of any one supplier.