Energy Services
Contract Negotiations
What is the price is naturally the most popular question asked by customers purchasing energy. For larger clients who desire more complex products, various legal provisions in an energy agreement can and will financially impact your energy budget. There are several provisions that we regularly negotiate for clients that have proven to mitigate exposure to additional expenses on utility bills. For the past decade, High Voltage has successfully negotiated energy contracts for major companies in the commercial and industrial space to enable their business to take full advantage of their purchasing power. Our staff and attorney provide guidance on all legal matters that can affect your company's bottom line. High Voltage provides your business with the insight and resources to negotiate the terms of your supply agreement so you have the competitive advantage you need when purchasing energy.
Tariff Analysis
One third of all U.S. states have deregulation legislation available for customers to choose their electric or natural gas provider. In regulated states where you do not have a choice, our analysts review local utility rate tariffs to identify potential money savings opportunities. Some accounts are incorrectly classified while other accounts can take advantage of rate discounts based on the way they use power in their business. High Voltage will provide the analysis and work with your local utility provider to make the necessary arrangements to reclassify your account so you can take full advantage of potential savings.
Demand Response
With limited capital available to build new power plants in the United States, demand response is quickly becoming the strategy for our electrical grid's reliability plans. Demand response is a solution where customers reduce the amount of energy they consume or shut down their operation to uphold the integrity of the power grid. There is a financial incentive for those customers who can reduce consumption or shut down at critical times when called upon by the system operators to uphold grid reliability. As your energy partner, we will provide you with the latest information on how demand response could benefit your business.
Value Add Account Setup
Our team members will assist you through the account set up process for our value added services which include market updates, information on future buying opportunities and access to our Utility Bill Tracking system.
Did You Know?
The Moon is very hot during the day but very cold at night. The average surface temperature of the Moon is 224 degrees Fahrenheit during the day and -243 degrees Fahrenheit at night.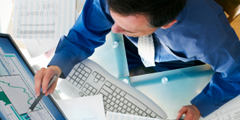 As an independent third party we represent the best interests of our client and not the interests of any one supplier.