Back to Blog
Dog Days of Summer
---
Posted on 07-06-2015
---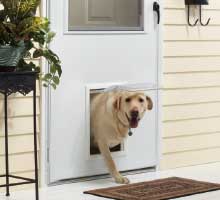 So, you have caulked the cracks, applied weather stripping to windows and doors, replaced that old air conditioning with a new Energy Star unit, and installed a doggie door to keep the opening and closing of the back door to a minimum. You are all set for the dog days of summer, right? Well, that depends - is that dog door an energy efficient door, or do you find a plastic flap blowing in the wind as hot air comes in and cool air goes out?
Many people fail to think about the dog door when making energy efficient changes to their homes, and it does make a difference in your energy bill. The government does have a criteria list for making a dog door energy efficient that varies between the type of material your door is made of. For instance, a wooden door needs magnetic stripping and other core materials for the tightest fit, and a glass door needs two panes of specialty glass along with other specifications.
Check with energy efficient sites for dog door specifications on energy efficiency. But, here are basic things to look for when sniffing out the right door for Fido.


Functions great in high and low temperatures


Can withstand high winds


Insulated


Securely seals that are weatherproof


Safe for pets


It's nice to give your pets the freedom to go outside at their choosing. And, with the number of energy efficient dog doors on the market today, there is no reason not to give your pet that option of coming in out of the heat when he's ready while keeping the heat outside of your home where it belongs in the summer months.
---
Did You Know?
Around 70% of the Earth's surface is covered by oceans.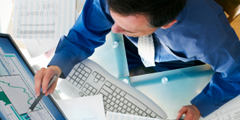 As an independent third party we represent the best interests of our client and not the interests of any one supplier.