Back to Blog
Daylight Saving Time and Energy
---
Posted on 11-08-2014
---
Before 1966, Daylight Saving Time (DST) was locally run, causing confusion for industries such as  reporters and the transportation.  In 1966, Congress passed The Uniform Time Act to put a stop to such confusion, making it uniform.  DST would begin on the last Sunday of April and end on the last Sunday of October.  States had the option of participating in DST or not.
During the energy crisis in the 1970's, most of North America and Europe adopted DST to conserve energy.  A study was done by the Department of Transportation in 1974 and 1975 showing in the two years, a total of 600,000 barrels of oil were saved.  In turn, the study shows that the country reduced the cost of electricity by one percent per household each day.
In 2005, Congress passed The Energy Policy Act that was signed in by President George W. Bush on August 8, 2005.  This new law added three weeks onto DST, starting on the second Sunday in March and ending the first Sunday of November.  This took effect in the year of 2007.
The concept of Daylight Saving Time has always been to conserve electricity among other things.  However, many are debating whether the additional hour of sunlight actually gives enough of a savings to justify the changing of clocks and schedules twice a year.  However, considering most of our energy use is done in the evening hours when we are home, even a small amount of savings per household adds up.  Also, each state will vary and making a decision based on one state compared to the rest of the country isn't the most beneficial way to decide on extending DST or abandoning it all together.  
Currently, the states that do not participate in DST are Arizona (except for the Navajo Indian Reservation) and Hawaii.
For a deeper view into the history and politics of Daylight Saving Time, read Seize the Daylight by David Prerau, who is known to be the leading authority on Daylight Saving Time.
---
Did You Know?
High Voltage partners with Safe Haven of Tarrant County, Texas to fight domestic violence. In 2013 High Voltage launched a utility fund to assist women in transitional housing to help pay their monthly electric bills.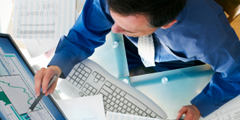 As an independent third party we represent the best interests of our client and not the interests of any one supplier.