Back to Blog
Winterize Your Home
---
Posted on 10-02-2014
---
October is the perfect month to make sure your home is winter ready.  The 2015 winter outlook shows that the US is in for another cold, wet winter, so check for trouble spots now before you are left out in the cold. 
Fall Checklist:
Top – Check your roof for any worn or failing shingles, using binoculars. Look around your attic for signs of leaking around vents or skylights.  You can add fiberglass insulation to your attic for energy efficiency.  If you have an attic fan, reverse the direction to draw warm air up.  Try to find protrusions to foam around for any air leaking into/out of attic.  Have your chimney cleaned once a year.  Clean out your gutters and check for signs of leaking.
Bottom – Service your heating system annually.  Check the basement for any dampness on the floor and walls, and flush your water heater while looking for signs of leaking.  Use foam insulation to cover exposed metal pipes to keep from bursting from frigid temps.  Use plastic film to cover basement windows.  And clean out the outside dryer vent, making sure the flap closes completely when the dryer is not in use.
Windows to the Walls – Drafts can waste 5% to 30% of your energy, according to the US Department of Energy.  Invest in a Black and Decker Thermal Leak Detector to check doorways and windows.  Also, check around pipes and wires that leave the inside of your home for drafts.  Weather stripping and caulking can save you on electric costs during the winter months.  Storm doors and windows can increase energy efficiency by up to 45%.
By taking these steps, you will save on your energy costs and save yourself from winter homeowner headaches.
---
Did You Know?
In 1879 Thomas Edison invented the first long-lasting incandescent light bulb that could be used for about 40 hours without burning out. By 1880, his bulbs could be used for 1,200 hours.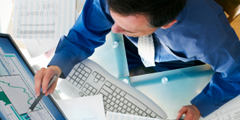 As an independent third party we represent the best interests of our client and not the interests of any one supplier.