Billing Analysis - tools to keep you informed of your usage and opportunities
Bill Review
Each month our billing department reviews and audits the utility bills for irregularities in billing patterns. If any billing errors are detected we will contact the retail supplier or utility provider to request a refund or credit to your next invoice. No fees charged, as our customer all refunds are given to the customer.
Bill Tracking – The UBT System
Any successful energy management program starts with auditing and tracking utility data. Tracking usage consumption and benchmarking data allows you to pinpoint areas for reducing energy consumption and to validate energy efficiency projects that you have implemented in your business. The UBT system combines the power of technology with years of utility cost management experience to enable you to take control of your utility usage. It provides reporting capabilities to verify year over year cost comparisons and to validate the results of our utility purchases.
UBT enables your business to view reports for a single location or rank all your facilities by geographic location, providing the detail you need to effectively manage utility expenses and verify results. Some of the available reports include:
Budgeting Wizard
Building Use and Cost per Square Foot
Cost and Use by Building Comparison
Global Building Use and Cost by Utility Type
Global Building Use and Cost Summary
Annual Utility Cost Comparisons
To view examples of reports available, please click here.
Your High Voltage associate will assist you with any reporting materials you need for reporting or budgeting as requested.
Did You Know?
The Sun's surface temperature is around 9941 degrees Fahrenheit.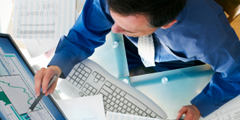 As an independent third party we represent the best interests of our client and not the interests of any one supplier.